Today we want to talk about the Day of the Dead that Mexicans celebrate on the 1st of November, but which is not exactly what you would know as Halloween, which we also celebrate in Germany by the way.
There are many differences between the two holidays, if you look closer: By celebrating Halloween, people wear scary costumes and masks to scare demons or ghosts out of the cities, that had returned from the dead (Would you have known that?).
Whereas "The Day of the Dead", which by it's name sounds way less jolly, is actually a happy celebration "with" the dead. It is said, that all of the dead people, be it your ancestors or former friends that have already faced death, come back to earth on the 31st of October to the 2nd  of November.
People spent time on graveyards, eating, drinking, singing and dancing in a nice and cozy atmosphere, with many candles lit to be with them.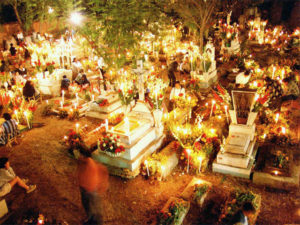 The clothing is also different. The costumes and the make up show mainly sculls. Who has been to Mexico knows how colourful the country can be when it comes to decorations. The sculls also are, but see for yourself: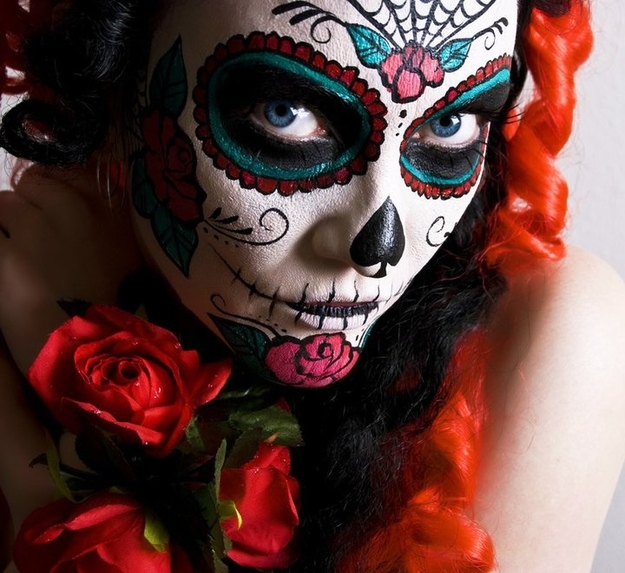 During the day of the dead- holidays you can buy candy and lots of things shaped like skeletons everywhere in Mexico. Every household will have a little or big altar, the so called "ofrenda", decorated with flowers, skeletons and water and food for the dead beloves which are meant to return on the day of the dead.
This year the day of the dead is becoming even more special. In addition to the new James Bond movie "Spectre", where Bond follows his enemy through a celebration parade on the day of the dead, the Mexicans decided to have their own. So for the first time ever, there will be a parade on that day. Just like in the movie it will end on the famous Zócalo-Place. Isn't that amazing?
So if you want to celebrate "Halloween" today, maybe this time you want a happy celebration like the Mexicans instead of the normally scary one.